Book a talk by project planet to educate the students

Students have to come up with new ideas how to recycle in teams 
Install seperate bins at school and encurage the studenst to recycle
Students will take part in a beach clean activity

Students have to create a campaign and engage with the public
1) Where did it all begin?
I remember the day well, I was near burn out and something had to give. I was working 6/7 days a week as a plasterer. In the evenings I was renovating my little studio flat. I was getting zero satisfaction out of life and was simply existing.
I remember the day well, I was near burn out and something had to give. I was working 6/7 days a week as a plasterer. In the evenings I was renovating my little studio flat. I was getting zero satisfaction out of life and was simply existing.
Arriving at the carpark I enthusiastically grabbed my surfboard and made my way across the slippery field, the view was stunning, but…It was clear from the top of the hill there was no surf….even my newly found enthusiasm to score a wave wasn't going to be able to make this work. 
It was a real struggle to take a day off, I had so much to do and I hadn't been able to 'switch off' for a very very long time, ADHD doesn't help with that! Begrudgingly I loaded my surfboard and headed to a spot I'd always wanted to check out. I knew it was a long shot for there to be any rideable waves but the chase is half the thrill as a surfer. On the journey down I started to feel that buzz I hadn't felt for what seemed like years, imagining a deserted cove, with the most perfect waves peeling across the bay….was I managing to finally switch off?!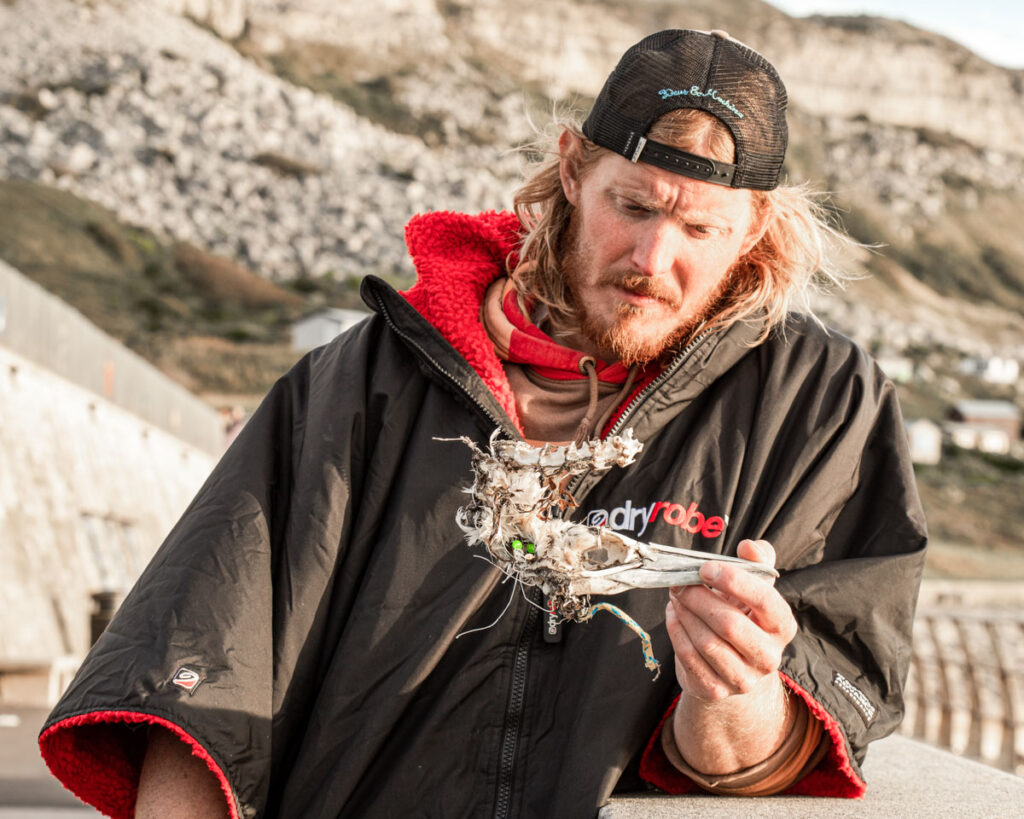 Despite the stunning view from the top, I felt, well..gutted. Right I'm going home, there's tonnes to do, the electrician is coming next week and……NO! I could hear my over active brain desperately trying to pull me back to the 'rat race' I'd been living for so long.
I managed to ignore the noise, stashed the board back in the van and once again made the journey across the insanely slippery field. The route down is not for the faint hearted! Eventually arriving at sea level I was greeted with the most spectacular serene little cove and not a soul in sight, bliss! I made my way over the treacherous rocks and under the vertical & unstable cliffs. I ended up in a spot with small pebbles and a little waterfall, I sat on a rock and looked out to sea. Trying desperately to stay in the moment It dawned on me that I wasn't happy. What if I had been getting it wrong all these years?
Shortly after I glanced around the beach, noticing I wasn't alone. It wasn't another person, or animal…. Along the tide line there were plastic bottles, fishing waste and numerous other items amongst the sea weed. Unsure how I'd not seen them when I first arrived I picked up a fishing crate that had washed up and began filling it with the plastic and trash that was seemingly endless. It seemed 'the right' thing to do.
After spending hours I felt the beach was looking cleaner, I carried my haul over the rocks and made my way back up a steep hill to my van. 
Looking back today, that day for me, was the turning point, it was the point in my life when I realised the true extent of the damage we were causing to the planet, by living the 'normal' lives we live. Also the damage I was causing to myself, living at 100 miles an hour. I knew I had to change the way I was living, change my focus if I was to find happiness. I realised that there was a much cheaper, easier way to feel content and indeed happy. A way that doesn't cost the Earth.
The greatest gift I have ever had is the ability to find happiness from the natural beauty that surrounds us, to stare out to sea in awe of its vast, ever-changing picture and song or to gaze up at the millions of stars on a clear night. Money cannot buy those emotions or feelings. It took me 30+ years to be able to see the natural beauty out there and begin the journey I'm currently on.
I've spent a lot of my life trying to fit in with people around me, more recently I've realised the people I look up to are the ones that stand out and aren't trying to 'fit in'.
I am currently only processing HDPE which is marked with a number 2 in a triangle. Please contact me if you have some clean plastics you would like to donate to the project.
All items are made from our very own beach collected plastics and bottle top from the awesome Win on Waste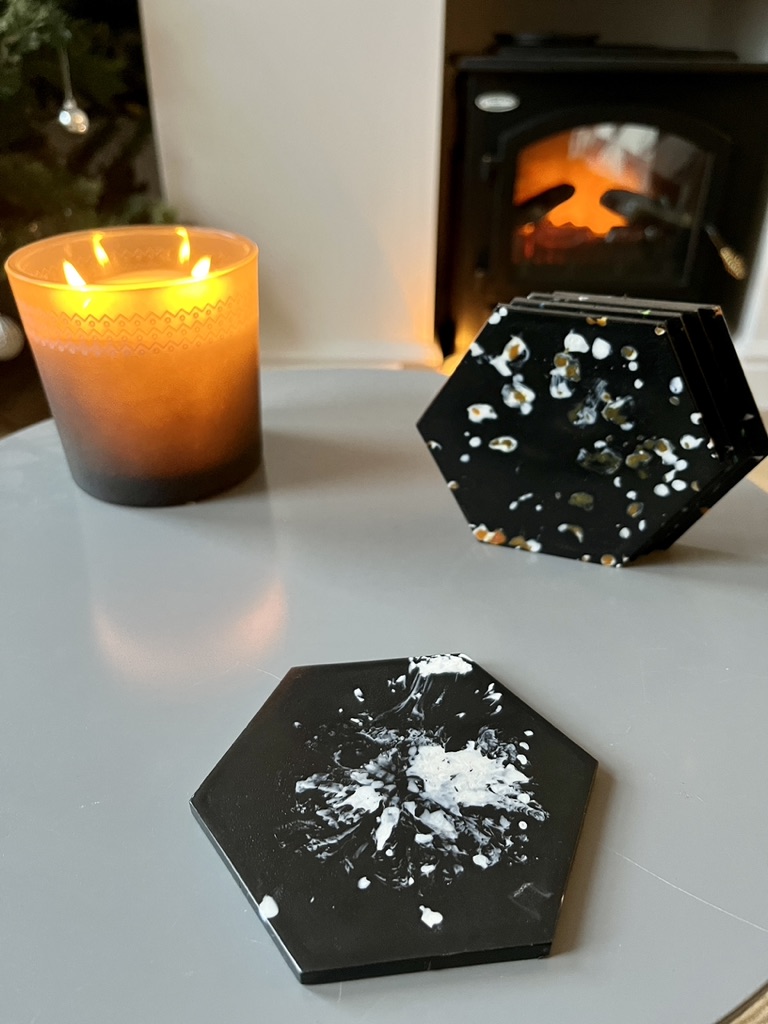 Our drinks coasters are made entirely from plastic we've collected on our beach cleans. There are various colours and patterns.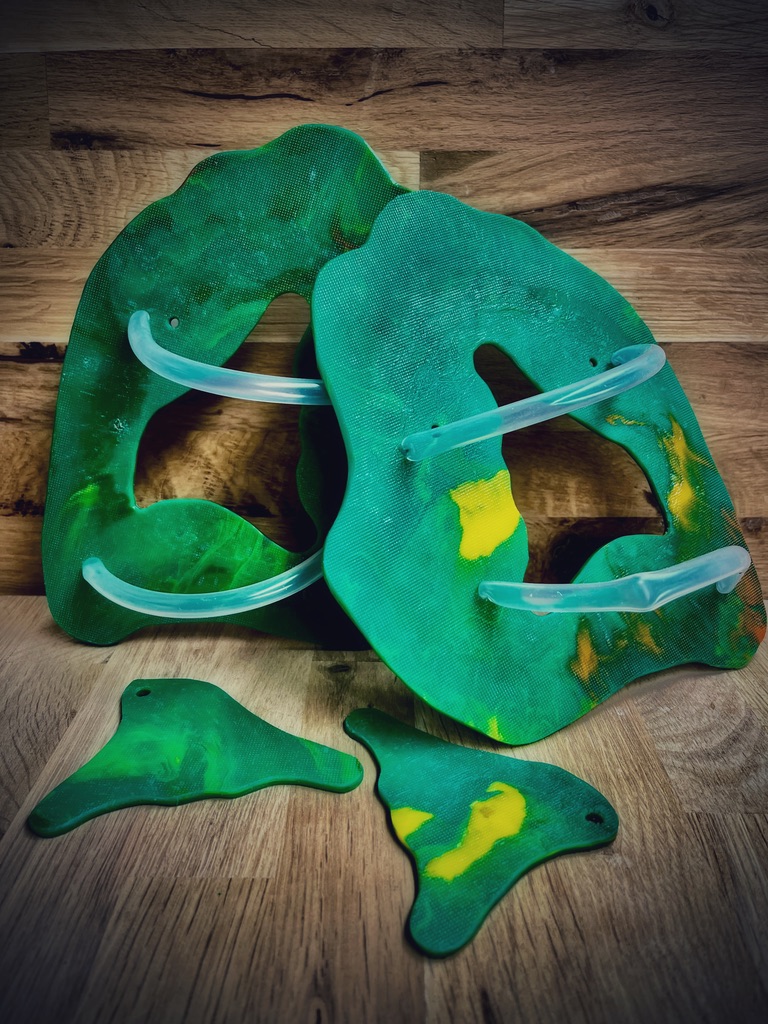 As a keen swimmer, Oly has created a range of hand and finger swim paddles. They are made entirely from plastic gathered on our beach cleans.
We want to create a new products to lock away the plastic and want to hear your opinion about our ideas. 
It is fully anonymous and takes 2 minutes. 
For a coastline with less plastic and more fossils
This is the amount of waste we have collected since the project began.
Travelling to coastlines, hunting for litter, and recycling our findings requires time.
Every coastline deserves respect, help us clean as many as we can.
Clean Beaches = Clean Oceans
For Mother earth and our children, not only do we roll our sleeves up and remove the litter from the beaches, we also recycle what we can. We organise group beach cleans and encourage others to join us. These events will be posted here on our website, please take a look at our calendar for more information.
Some areas are messier than others. Know any that require our attention? Spotted a ghost net or other item along the coast that needs removing?
25 trillion macro-plastics and 51 trillion micro-plastics litter our oceans. The plastic we collect would otherwise end up breaking down to microplastics. 
Discover what you can create at home out of old plastic you might find.

Project Planet
Inspiring conscious living through awareness swims, beach cleans & keeping it real. #OceanGump
The Grand Swim
World first 37 hour non-stop swim around Grand Cayman
Swim IOW Plastic Fight
World's fastest solo swim raising money for Clean Jurrasic Coast
Swim Jurassic
100 mile swim that started it all